---
← Back to the Alcohol.law Digest
New California ABC Advisory on Merchandising Services by Suppliers
In December 2014, the California ABC posted a new Industry Advisory about merchandising services. Free services provided by suppliers to retail licensees, such as stocking shelves, pricing inventory, rotating stock, etc., are prohibited things-of-value under California Business & Professions Code sections 25500 and 25502. However, a number of permitted exceptions are separately provided for in Section 25503.2. The Advisory was posted in response to inquiries and complaints about the scope of permissible activity. When ABC receives multiple complaints about impermissible conduct, investigations and license accusations may well follow, so it would be prudent for suppliers to review the scope of permissible merchandising activities.
Permitted activity varies depending on the type of retailer and the products involved so we created a simple chart below to help keep it straight.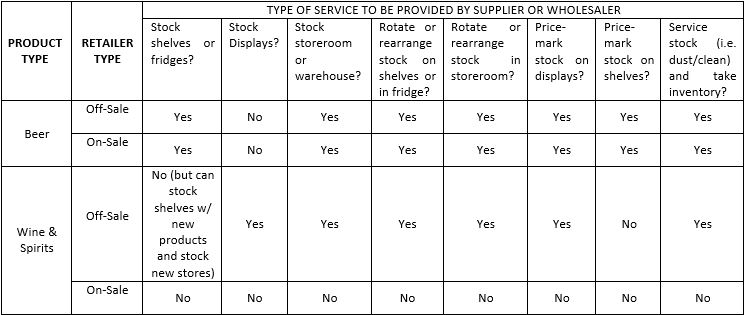 Note that in all cases, any merchandising activities can only be done with the retailer's permission. In no case can a supplier move the inventory of another supplier, except for "incidental touching" to access the space allocated to the licensee providing the merchandising service.
Alcohol.law Digest is published for general informational purposes only and is not intended as legal advice. Copyright © 2015 · All Rights Reserved ·
© 2010-2022 Strike Kerr & Johns, Beverage Law Group LLP, Alcoholic Beverage Attorneys